4 Types of Customer Data to Enhance Your Marketing Campaigns
June 20, 2019 by Rob FitzGerald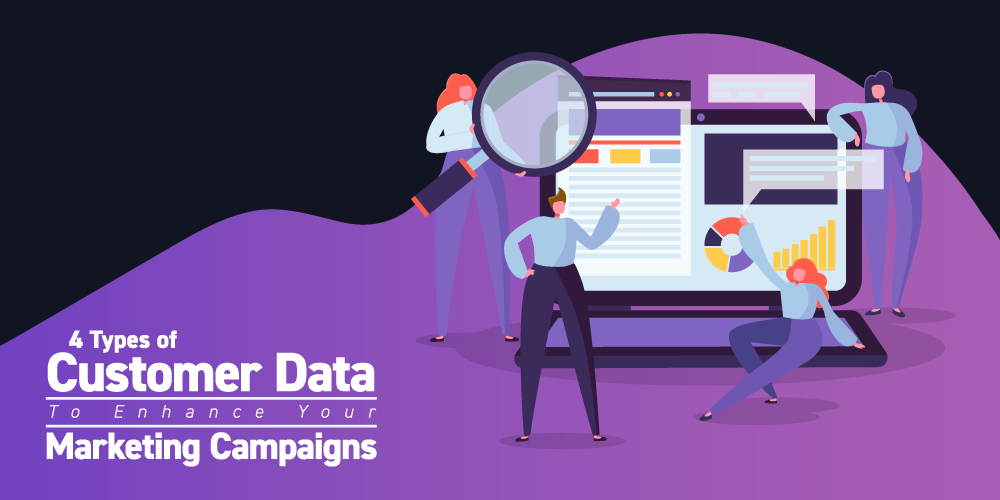 In today's digital age, it seems that the world never sleeps. As such, massive amounts of data are collected every minute of every day. In fact, more than 2.5 quintillion bytes of data are created each day, and that number will only grow bigger. From tracking your online content consumption and search engine queries to recording your purchase history and social media activity, an insurmountable amount of data is being generated on a regular basis.
Now, every aspect of people's lives and actions can be translated into data – data that can be processed and analyzed to provide useful insights for businesses. Indeed, it's transforming the way businesses identify their target demographic and find out what their customers want.
The Importance of Customer Data Analytics
With the help of big data, today's businesses gather more information about consumers than ever before. The data allows them to accurately create highly targeted and personalized ads.
A study shows that 67% of customers were willing to share their information in exchange for some form of benefit, like discounts and freebies. Additionally, around 86% of consumers are more than happy to pay for better customer experience. Based on these numbers, customer data analysis proves to be a critical in providing a seamless and unique experience for consumers.
Collecting and analyzing customer data not only helps your business improve your marketing campaigns, but it also enables you to elevate other aspects of the customer experience, such as product recommendations, communications, retention and loyalty programs, and more.
Below is a visual guide that illustrates the types of customer data. Let's find out how it can significantly enhance your marketing campaigns.

The 4 Types of Customer Data
You need to collect all necessary data to help you get a firm grasp of the problems and opportunities your customers face. Below are four different customer groups for your analysis.
1. Identity Data
The first type of customer data analysis investigates the core of database marketing – the most basic information that identifies an individual. It collects a customer's name, gender, age, phone number, postal address, email address, profession, social media handles, and account information (i.e., customer account IDs).
The identity data group is your basis for defining and creating your buyer personas, giving you a clear picture of what kind of people are interested in your products and services. This allows you to determine your target demographic.
You can collect your customer's unique identity information when they subscribe to your newsletter, when they make a purchase, or when they sign up for a membership. If your company uses a CRM tool, you can store, organize, and centralize this information in one place. You can then use this data to filter customer segments, which can be useful for personalizing email campaigns.
2. Descriptive Data
Understanding your customers means going beyond their name, age, and email addresses. You need to dig deeper to get a genuine sense of your customer personas. This is where descriptive data comes into play.
The goal is to gather quantifiable data about your customers to make accurate forecasts regarding their behavior, seasonal surges, and purchasing habits. You can align your predictive analysis with your marketing and sales strategies for maximum effect.
Identity data, as well as quantitative data, are data sets which businesses collect automatically. But with descriptive data, you need to go through lengths to get it. You can conduct interviews or in-depth surveys to acquire the information you need from your customers voluntarily.
Ask the right questions to get insightful answers that help define who your customers are (i.e., their career aspirations, civil status, pet ownership, income, etc.). From there, you can use this to target consumers who are in different phases of the sales cycle.
3. Behavioral Data
Behavioral data helps you assess your customer's patterns when using your products or services. It tackles their browsing habits, online activity, social media usage and buying behavior. Knowing what keywords they use to find your website, the device they use to view it from, and the amount of time they spend on it further allows you to optimize the customer's journey to generate more conversions.
Furthermore, this data shows which channels attract the most conversions so you can put your marketing spend where it's most effective. Likewise, you can see if your business is generating more revenue from social ads compared to search engine ads. Tracking tools like Google Analytics or Kissmetrics can help you measure the effectivity of various touchpoints your customers interact with.
4. Qualitative Data
Finally, once you've identified your customers' basic information, in-depth personal details, and behavior, what you're left to do is find out their attitudinal information, opinion, and motivation about your brand (and your competitors'), why they purchased your product or services, and how they feel about it. You can uncover all these through qualitative data analysis.
The crux behind qualitative data is to discover how customers genuinely feel about your product. This is interpreted based on their opinion, review, and sentiment expressed on various channels, such as in social media posts, review sites, or via email.
You can use social media monitoring tools to "listen" to what your customers are saying about your product and services. The insight reveals who your loyal customers are so you can tap potential brand advocates. It also tells you which areas of your customer communication and marketing strategy need more improvement.
Best Ways to Collect Customer Data
Processing customer data analytics can significantly streamline your email list, improve your client retention, and boost your marketing campaigns. Here are the best methods for gathering customer data.
Web analytics tools, like Google Analytics, allows you to understand your customers better, as well as collect business insights, for improving your marketing initiatives. You can see what echoes with your audience through certain metrics, such as pageviews, time on page, and bounce rate.
For providing resources, information, and entertainment for your consumers, you can monitor which organic keywords are driving conversions to your site and base your content marketing materials on that.
Running a survey among those who completed an action (e.g., email sign-up, purchase, etc) is an excellent way to parse out your customers. You can extract a decent amount of additional data about them (i.e., civil status, interests, income, etc.) through this, which can help you get a general picture of your target audience and buyer personas.
With online surveys, the turnaround is quick and respondent tracking is easy. It's an inexpensive way to reach your audience wherever they are.
Signup forms or lead forms are one of the easiest ways to gather basic customer info. These forms not only help you generate leads, but most importantly, the data captured reveals basic information about your target demographic. Gating lead magnets behind signup forms is a strategy that the marketing community has wholeheartedly adopted.
Direct outreach and interviews are a fantastic way to fill in the gaps left by impersonal forms, surveys, or feedback answer boxes. You can conduct customer interviews through phone calls, online video chat, email, or a face-to-face meeting.
Phone interviews are a low-cost way to reach out to your customers. They're also less time-consuming. Meanwhile, face-to-face interviews communicate beyond words. You can see the honesty and validity of a customer's response through their non-verbal cues.
Asking for user feedback is an important step when gathering customer data. Whether positive or negative, user feedback ensures you're building something your customers want. If it's positive, that implies you're successful at fulfilling customer needs and wants. If it's negative, that shows you still have room for improvement.
Always ask your customers to follow you or like your page, especially on Facebook. The act of merely "liking" your page enables you to find the necessary demographic information from your followers–gender, age groups, cities, language spoken, etc.
You can also utilize the polling tools built in some social media platforms. You can use it to ask for feedback, evaluate customer preferences (e.g., product packaging, product inclusions, etc.), and others. It's an excellent way to interact with customers and learn more about them.
A Much-Improved Customer Experience
With today's digital landscape, we're saturated with massive amounts of data. Hence, it's critical to figure out which data is valuable. As a marketer and a businessperson, you need to take advantage of this to help you construct strong marketing solutions and effective strategies.
Know this: data is power. It's how you can understand what your customers want and need, and effectively grow your business. The answer to how you can provide a better and more personalized experience for your consumers lies in your collected insights.
Want to know how you can maximize customer data for a better customer experience? Contact us today!