A Guide to Choosing the Best Digital Channel for Your Business [Infographic]
January 24, 2018 by Rob FitzGerald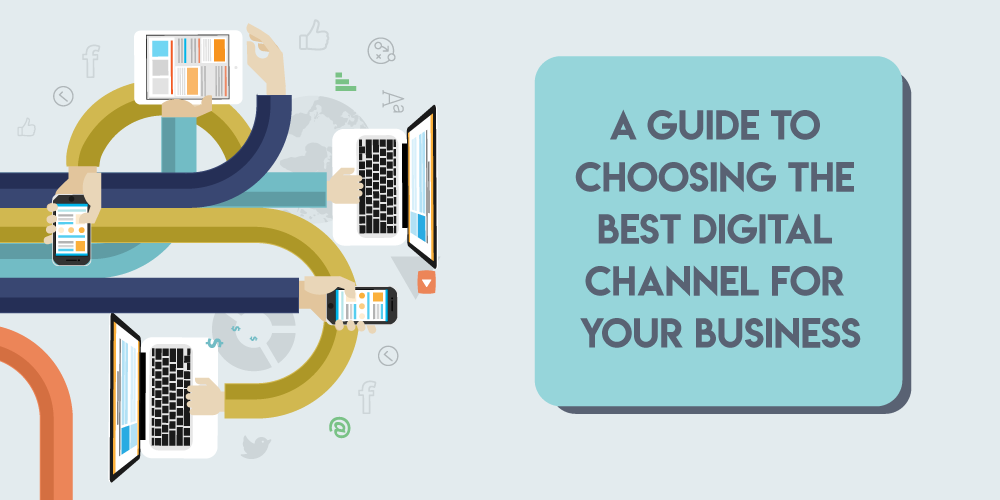 In today's highly competitive business landscape, it's critical for any business to establish and maintain a strong online presence. Digital channels present new markets and new opportunities for businesses. But, there are many businesses, whether small or large, that have not realized the power of digital channels, while some of those who do still fail to harness its full potential in reaching their business goals.
With several digital marketing channels available, you need to choose the tools worth focusing on to get you a step closer to your goals. There are a variety of digital channels you can leverage for your business such as email, SMS, SEO, social media, content, or digital ads. It's just a matter of choosing the channel where you can put your marketing dollars.
Make sure to maximize your marketing budget and get more bang for your buck. Here's a guide to choosing the best digital channel for your business.

Share this Image On Your Site
Please include attribution to https://connextdigital.com/ with this graphic.

Kinds of Digital Channels for Your Business
The digital channel you choose should largely depend on the type of your business, the kinds of customers you're targeting, and your overall business goals. Before picking the channel that fits your business best, it's important to familiarize yourself with the various digital marketing channels available.
1.Email
When businesses perform lead generation strategies, they often collect names, email addresses, and other contact information to connect with prospects. After these prospects provide permission, they are then sent updates and information through email marketing.
To date, email marketing offers up to 4,300% ROI. It allows marketers and businesses to nurture customer relationships through email newsletters, brand updates, exclusive promos and discounts, and other engaging brand messages.
A strategically crafted email sequence will help you convert your engaged prospects into customers, and convince hesitant prospects to purchase your product or subscribe to your service. An email blast service will definitely help you build brand loyalty and ultimately reach your business goals.
2. Display Advertising
Display advertising is the process of creating and publishing ads through various online channels such as third-party websites, search engines, or social networks to increase brand awareness and generate traffic. In short, display ads will help you get your brand in front of your target market.
Depending on the target site or platform where you want to place your ads, the cost will be on a cost-per-impression (CPM) or a pay-per-click (PPC) basis.
3. Mobile In-App Advertising
In-app advertising or "appvertising" is one of the fastest-growing forms of mobile advertising, as smartphone users spend almost 90% of their total time on any media, on mobile apps. As a result, mobile in-app advertising now offers advertisers higher click-throughs and conversion rates than web advertising.
There are several ways you can maximize the appvertising trend. You can place your product within the game in such a way that it enhances the game experience. Ever notice how the NBA2K game characters can change clothes, eat cereals, or even listen to music?
Bribery is also an effective technique when it comes to appvertising. Some publishers ask their gamers or users to watch a few seconds of video ads in exchange for their much-coveted game currency.
4. Social Media Marketing
You can improve your brand reputation by regularly and consistently posting relevant content on your social media pages such as Facebook, Instagram, Twitter, or LinkedIn. Again, the social media platforms you choose is dependent on the nature of your business and the type of customers you're targeting.
5. SMS
Text messages remain one of the most reliable communication tools in today's modern world. Despite the accurate prediction that the number of smartphone users is set to surpass non-smart cellular phone users, the fact remains that both smartphones and cellular phones have the capability to send and receive SMS. For many developing markets, cellular phones will remain the primary communication device in the years to come.
You can use SMS as a lead nurturing tool, much like an email blast service. SMS allows you to send your customers direct and real-time updates about your business. Typically, SMS works best for brick-and-mortar businesses who want to increase foot traffic to their store or direct their customers to their e-commerce website.
6. SEO
Almost 93% of online experiences begin through a search engine such as Google, Yahoo!, or Bing. Google is being used by people so much that it's no longer just a brand. The word "google" is now an official verb in the Webster's Dictionary.
It's crucial for any business who uses digital marketing strategies to implement proper SEO techniques. This will allow your target market to find your business, whenever they need products and services like yours.
SEO involves several strategies within its discipline, including on-page and off-page optimization, keyword research, link building, and more.
Set Your Business Objectives
Goals and objectives vary between businesses, so it's crucial that you choose the digital marketing channels based on your specific business goals. Whether you want to increase brand awareness, generate leads, or improve your sales and profit, there's a specific channel that works well for that.
Brand Awareness
If your business heavily relies on brand recognition, then you should focus your digital marketing resources to channels that help increase brand awareness and improve brand reputation. Digital ad placements in social networks and popular websites can get your brand noticed by your target consumers or buyers.
Social media marketing can also organically increase brand awareness. Post engaging content with images to encourage people to share it. Short videos also have the potential to go viral, so don't be afraid to invest your marketing dollars into creating visual content.
Partner up with online influencers whose audience are similar to your target market. Experiment with joint marketing ventures with large distributors and e-commerce platforms. Make sure to practice social listening to constantly stay updated with your target market's demands and needs.
Lead Generation
If you want to generate leads and increase your website traffic, there are a number of digital channels that work great for that. Improving your SEO strategies will allow prospects to find your business, whenever they are searching for concepts related to your industry.
Content marketing, fueled by SEO, will also help consumers find your website organically. Make sure to include a lead generation form or signup form on your website, encouraging visitors to provide their email address. Follow it up with an email blast service to nurture your leads and build a relationship.
Direct Sales
Nowadays, even the biggest and most popular brands make their products available online, to gain their share of the market in the eCommerce industry. Even if you're selling services or software, your products and services can be made readily available for purchase. Thus, you need to adopt digital channels that can fuel your direct sales.
Make your landing page simple and easy to consume. Ensure that your website and other digital assets are optimized for any mobile device and screen size for a seamless user experience. Create large and visible call-to-action buttons, and make the purchase process as frictionless as possible.
To drive your direct sales, consider display advertising and choose the platforms where your target markets typically hang out such as Facebook, Instagram, LinkedIn, Pinterest, or other social networks relevant to your audience.
Remarketing ads and email marketing will also help you gain back the lost opportunity during shopping cart abandonment. Nurture your leads with email and SMS to encourage them to purchase your product.
Important Things to Consider
When choosing the digital channel that's best for your business, you should always consider your target market, budget, available talent and resources, and competitors.
Target Audience
Any marketing effort is doomed to fail without a thorough understanding of who your target market is. Know your audience beyond the demographics. Make sure to conduct proper research about their wants and needs, pain points and challenges, where they engage with the offers they're sent and their behavior, before coming up with a marketing strategy. Create a buyer persona, so you have a clear picture of who they are.
Budget
You need to know how much you have to spend on your marketing efforts. Once you decide on the channels relevant to your business goals, then you can determine how much to allocate to each channel. It's also important to ask yourself how much you can expect in return for your marketing efforts, but be committed to the process.
Consider the fees you need to pay for such as advertisement costs, payment for content creation services, fees for graphic artists, videographers, and developers, and other relevant costs.
Availability of Talent
Now that you have the exact amount for your marketing budget, it's time to check the talents and resources available for your marketing campaign.
You may already have a marketing team employed, but are they capable of creating engaging ads and valuable content? Do you have a strong website development and design personnel who can readily make changes to your website to accommodate your marketing efforts?
Building an in-house digital marketing team can be time-consuming and excessively costly, which is why top brands delegate this task to digital experts. Note that each marketing channel is a specialty on its own, and having the right people with the right skills is crucial. Partner up with a creative digital marketing agency to ensure the success of your campaign.
Competitor Benchmarking
The digital world now offers boundless opportunities for brands and businesses, but along with these, there's tighter competition. Make sure to do your research and get to know your competitors as much as you did your target audience study.
Create a list of your top competitors, and find out what they're doing to further their business. Do their marketing initiatives produce positive results? Find out which digital channels they are using and how they're using them. Don't let your competitors leave you in their dust.
Final Tips
When strategizing and launching a digital marketing campaign, you can't just rely on a single channel to drive your business to success. Each digital channel has its own advantages and disadvantages. That's why it is important to combine the different channels to generate maximum results.
Make sure to test, measure, and analyze each marketing strategy to determine which channels are helping you meet your goals and generating the best results.