11 Creative Ways to Grow Your Email List
May 7, 2019 by Rob FitzGerald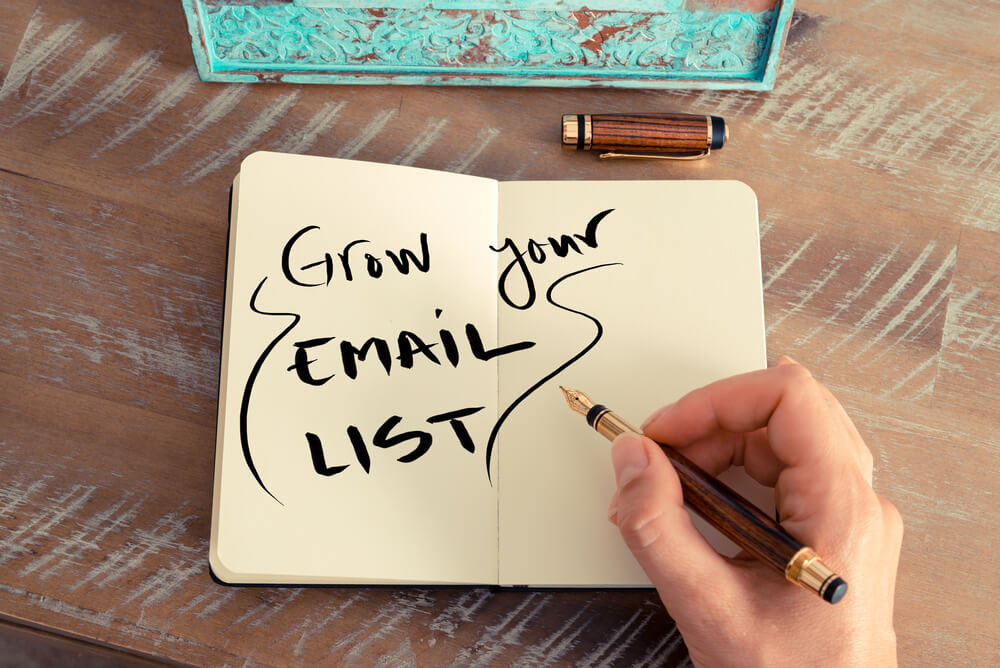 Undoubtedly, one of the best foundations on which to build your personal relationship with customers is email, as 99% of consumers check their email daily. Meanwhile, roughly 40% of B2B marketers say email newsletters are most vital to their content marketing success. So, yes, email certainly remains to be a valuable and worthwhile marketing strategy.

Your top priority with email marketing should be building an email list. The more people who receive your email marketing campaigns, the more chances you get to generate leads, close sales, and achieve your business goals.

But as most brands are now leveraging email marketing, you need to go beyond the basics to sharpen your edge and stand out amongst the clutter. We've rounded up some unique ways on how you can encourage more email subscriptions and add more people into your email contact list.
Creative New Ways to Get More Email Subscribers
1. Include an email field in the checkout

If you have an online store, that serves as an excellent place to ask for your customers to leave their email addresses in the checkout process. These people bought your products or services. If you're not asking for their email addresses on this part of their buying journey, you're missing an opportunity to tap into this highly engaged group of customers.
2. Bring a sign-up sheet to networking events

Throughout the year, your business probably joins fairs, conferences, and similar networking opportunities for a chance to connect with marketers, entrepreneurs, and prospects.

Take the old pen and paper trick and encourage attendees to sign up for your blog or newsletter for updates and exclusive deals. You can incentivize their signup with branded merchandise giveaways.

Send a welcome email (which has an average open rate of 84.22%) to your new subscriber. You can go even further and offer a special discount for their first purchase. This way, it's more personalized, and the recipients immediately feel the benefits of giving you their email address.
3. Offer a referral program

First-hand insights matter when it comes to trying out a product or service. Around 83% of consumers are influenced to purchase something through word-of-mouth marketing from friends or family members. So, launch a refer-a-friend program to reward loyal subscribers for bringing in new customers or subscribers.
4. Create an email course

Get more people to opt-in with valuable email content such as a free email course. Creating a series of emails designed to educate your subscribers builds trust. This is the kind of content that brings you the right audience. It's not just a campaign to build your email list, it's an effort to offer people what they want and at the same time, gain exposure.

You can promote deals like this on your social media networks and your website, so people who aren't subscribed to your email list yet, will be encouraged to sign up to the free course.
5. Host social media contests

Contests gain attention, stir people's curiosity about your brand, products, and services, and collect email addresses of participants. Hosting contests on Facebook or Instagram is a quick and easy way to grow your email list.

Announce the contest on your social media accounts, along with a promotional photo, information about the prize, the contest hashtag, a description of the contest, a CTA, and most importantly, a link to a landing page that requires their email address to participate.
6. Present "first order" offers

One of the easiest ways to get an end-user to sign up to your email newsletter is to offer them a discount on their first order (e.g., Sign up to get 25% off your first purchase!). Research shows that 57.4% of consumers say they are likely to purchase from a site when they get an email with a discount code. This is also a great way to warm up cold leads for product-based sites and businesses.
7. Offer something free

Who doesn't want free stuff? You can offer your audience a free tool or software, e-Book, informational guide like this email marketing guide, consultations, X-day free trial, or something else of value in exchange for signing up. Offering gated content is widely-recognized as a great way to generate quality leads. You can execute this through welcome mats on your site or social media announcements. It's a quick and easy way to drive opt-ins!
8. Chime in on discussions

Review blog comments, Facebook comments, forums, discussion boards, and other similar pages to swoop in and provide helpful answers related to your industry. This gives you the opportunity to drop a link to your newsletter subscription page. It's also a subtle way to promote your subscription page and get opt-ins, and at the same time provide useful information for readers and show potential followers that you're an industry leader they can trust.
9. Conduct a survey

Rolling out surveys hits two birds with one stone: they help you gain useful insight and collect email addresses. But to make it work, you need to offer an incentive to get people to answer it. Something like an exclusive discount or a freebie can encourage people to participate and sign up.
10. Include a link in your social media bios

Maximize the valuable real estate space in your social media bios—promote your newsletter subscription page. You can do this on Facebook, Instagram, Twitter (also, pin post), and Pinterest. Compress the URL through a link shortener and customize it with the CTA "free" in the URL to attract your followers.
11. Add an email signup table to an event

If you ever have a seminar or an event coming up, ask those who will register with their email to consent to being automatically added to your email list. Tip: include a tick box to ask first if they will allow you to send email newsletters for future similar events and deals. This way, they won't feel spammed or tricked into signing up.
In Summary

These days, marketers focus way too much time crafting an engaging tweet or Facebook post to interact and reach customers. But they forget the oldest, most important and effective marketing channel—email.

Research shows that by 2022, there will be 4.2 billion active email users. Regardless of your kind of business or what industry you're in, if you have a website you need to get your customers to opt-in to your email list. This is your key to building your subscriber list and growing your revenue faster.
Contact the experts at Connext Digital to find out more about how we can help you grow an effective email database that drives profitable conversions.